Allied Fluid Products distributes Air Operated Double Diaphragm Pumps, Single Air Operated Diaphragm Pumps, Mag Drive Pumps, Chemical metering pumps, Peristaltic Pumps, Sanitary Pumps, Submersible Pumps & Trash Pumps, Chemical skid systems and accessories.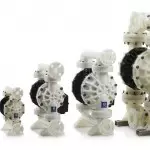 Distributing for the following
Air Operated Double Diaphragm Pumps
Air Operated Double Diaphragm Pumps, Piston Pumps, filters, regulators and lubricaters (FRL'S), lubrication equipment and pneumatic valves and cylinders
ANSI Dimensional Mag Drive Pumps, Polypropylene & PVDF Mag DrivePumps, Sealed Centrifugal Pumps, Vertical Pumps, Drum Pumps, & Recyclers
Now offering the complete line of Graco AODD pumps which is one of the most extensive lines of Diaphragm pumps. This includes 3A Sanitary Pumps as well as pumps that come with a unique 1 piece PTFE over molded diaphragms for increased up time.
Submersible Pumps and Trash Pumps
Mag Drive Pumps, Filter Systems