Allied Fluid Products is a Garlock and Gore® distributor. We cut gaskets from a large inventory of various materials to meet your requirements.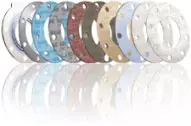 Distributing for the following
Red Rubber, Neoprene, Cloth Inserted, Buna, Diaphragm Sheet, EPDM
Stocking distributor comprised of Gylon styles 3504, 3510, 3545, Compressed NA style 3000, 3200, 3300, 3400, 3700, 3760 Multiswell, 5500 Inorganic Fiber, High Temperature 706, 9800, 9850, 9900. Graphlock Graphite 3123, 3125SS, 3125TC, 3128 Hochdruck. Stress Saver/Low Torque gaskets. Premium Rubber -7797 Neoprene, 8314 EPDM, 9518 Viton, 8798 Neoprene Diaphragm Sheet
GORE® Universal Pipe Gasket (Style 800), GORE® Joint Sealant, GORE® GR Sheet Gasketing, GORE® Gasket Tape Series 500, GORE® Gasket Tape Series 1000, GORE® Valve Stem Packing, GORE® GFO® Packing. All products are for industrial use only.
Belting, Molded and Extruded rubber, Hypalon, O-rings, Sheet